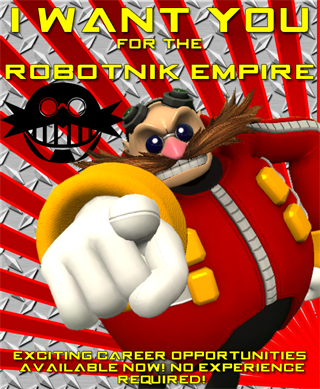 Here is the Greatest Poster ever made for the empire !!! Made by My Self Of Course ! Now everyone will be attracted by this ultra modern design, inspired by the Uncle Sam Poster in USA which is super popular! Now this Awesome Poster will be displayed and promoted everywhere i can especially at some strategic places.
Of Course this is not a real job ! I am talking about Fans, Members and maybe become a STAFF member ! That's right !!! I am looking for five Moderators, two News writers and one Admin. Who will be the lucky one ???? Every candidate will be studied, no discrimination here ! And NO EXPERIENCE REQUIRED !!! This is the Real Chance to get an Admin Status at the New Beginning of the Great Empire! I have to remember you all about how hard it is to become an Administrator in any site so maybe it's your chance now !
So Join us at the Forum
http://www.robotnikempire.com/RBoard/
Write us an Email if you are interested to be one of my STAFF Members. My staff will notify you as soon as I receive your email.
Good luck to all !!
The Greatest Scientific Genius,
Doctor Robotnik